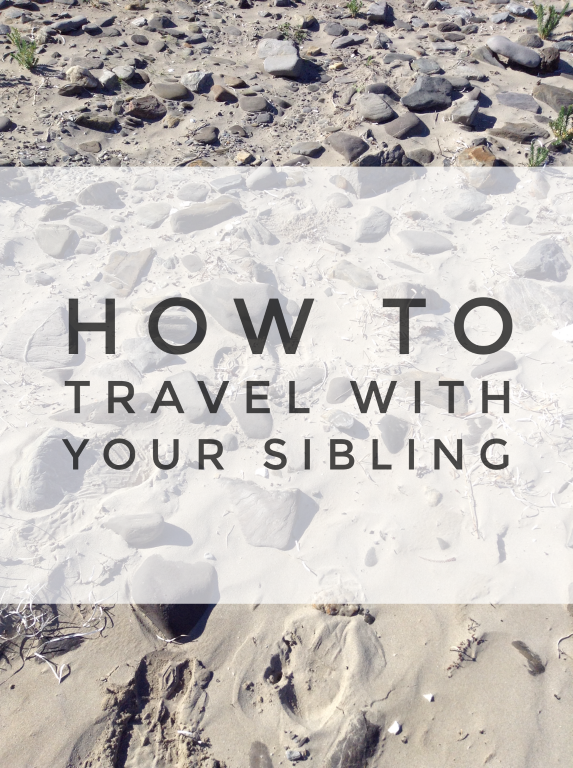 Travelling with siblings can be awesome if you get on well with each other. Having lived with each other for such a long period of time as children, now that you've both grown up you know each other's likes and dislikes, and when you each need your space. Since they care about you, they'll be considerate of what you want from your vacation time (and vice versa). And they'll be there to reminisce with once the holiday's over.
I've been on two trips with my brother over the years: a visit to Belgium, France, and the UK in 2014, and a trip to the US and Ireland in 2016. Though I initially had some concerns about how well we'd travel together before we left for our trip in 2014, it all turned out well, and we're even throwing around some ideas about doing a road trip of Scandinavia in 2018!
However, no matter how well you get on with each other, and how well you think you know your sibling, there are still a few things you should do in order to make sure the trip is memorable for all the right reasons:
The Planning Stages
So you've decided to go travelling with your family. What do you need to do to get organised?
Decide where you want to go
Perhaps the most obvious place to start would be deciding where you'd like to go. This could take some time, especially if you've both got long bucket lists of dream destinations. Find places you both want to go to, or work together to find some inspiration for destinations you both want to travel to.
Work out your Must-Do list
Once you've agreed on your destination, take the time to separately write down a list of what you would like to do and see at each place.
After you've each compiled your lists, compare them. Some things may be the same. If so, great! Add them in to your itinerary as they are important to both of you. If there are things that are different, and it's not something you're remotely interested in, compromise. Maybe when they go and do that, you'll do something else on your list that they don't particularly want to see.
While You're There
So you've packed your bags, arrived at your destination and checked in to your accommodation. Excellent! Now how do you make sure everything runs smoothly from here?
Give each other space
When I'm visiting a city, I love to discover it's history, and explore the heritage buildings, whereas my brother loves to hit the shops in the hope of finding something he can't buy back home.
While I can spend part of my holiday shopping, and he can spend part of his time learning more about the history and culture of the destination we're visiting, we get drained if we spend too much time on the thing the other person loves.
Therefore, we accept that we're interested in seeing different things, and plan out our travelling days so that we're together for the sights we both want to see, but also allow for time to split up and fulfill our own wish lists. Doing this also stops us from getting tired of being around each other 24/7.
Compromise
Compromise is important when you're travelling with other people. If you chose the restaurant you all ate at last night, perhaps tonight it's the other person's choice. Though you may not have as much freedom to do whatever you like when you're with someone else as you do when you're travelling solo, letting someone else choose may lead you to discover something fantastic that you wouldn't have chosen yourself.
Don't hold grudges
Nothing ruins a holiday faster than if you harbour regrets or antagonism towards the person you're travelling with. On our recent visit to New York, my brother would stay up late and sleep in until lunch time, whereas I'd wake up in time to see the sunrise and want to start exploring. Instead of hanging around waiting for him to be ready, I went for morning walks by myself (avoiding the famous landmarks we both wanted to see), and therefore got to see Lincoln Centre, spend time in Greenwich Village, and explore the city on my own terms. If I hadn't done this, I would have been angry at him for what I saw as wasting precious travel time. If something doesn't go the way you wanted it to, either accept it or find a way to work around it. Don't let your attitude ruin your holiday.
Hopefully these tips help get you in the right frame of mind when you're travelling with your brother/s or sister/s! If you have any other tips you would like to share, feel free to write them in the comment section below.
And just before you go: today is my brother's birthday! He has his own YouTube channel and vlogged our trip to the US and Ireland (blog posts to come soon!) last year. Check the vlogs out below for some travel inspiration!
New York

The Republic of Ireland

Northern Ireland