Latest Travels
---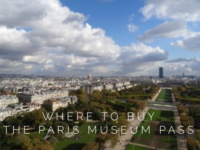 If you're heading to the City of Light this July, you might have heard of the Paris Museum Pass – a multi-day pass giving you entry (and in some places the ability to bypass the queues) to more than sixty museums, art galleries, and monuments in and around Paris. While you can buy it online, … Continue reading Where to buy the Paris Museum Pass →
Continue reading: Where to buy the Paris Museum Pass
---
It's usually a spur of the moment decision to visit Monarto Zoo. It starts with an hour-long road trip through the Adelaide Hills along the South Eastern Freeway, past rolling hills and farmland, and ends with finding yourself at the gates of one of the largest open range zoos in the world.
Continue reading: A Day Out At Monarto Zoo
---
Over the past few days, I've been reading Lessons from Madame Chic, a book about author Jennifer L Scott's study abroad trip to Paris, and the habits and traditions upheld by her French host family which she has brought into her everyday life. Lessons from Madame Chic got me thinking about my own school exchange … Continue reading Simple Pleasures →
Continue reading: Simple Pleasures
---
It was getting close to 10PM, the summer air had cooled and I pulled my scarf closer around me as we joined the people gathered in front of the Art Gallery of South Australia. The normally brown facade was changing. A blue bird perched itself on a rock, peered at us, and then flew off, … Continue reading A Night of Illuminations →
Continue reading: A Night of Illuminations
---
Where did January go?! Every year it seems that time speeds up and each month flashes by faster than the last one. Now January has disappeared in a haze of summer holidays and February is already upon us! Time to make some plans for this month. I never do well with following up on my … Continue reading Hello February! →
Continue reading: Hello February!
---
Don't like heights? Then Ta Keo might not be the temple for you! One of the Angkor temples near Siem Reap, what most captured my attention during my visit to Ta Keo was the stairs that visitors must climb in order to reach the top of the pyramid-like temple. I love the challenge of climbing to the tops of hills and belltowers and Ta Keo offered me another!
Continue reading: Climbing Ta Keo Temple
---
I wasn't sure what to expect from my visit to the Royal Palace of Phnom Penh, as it was my first visit to a palace outside of Europe.
Continue reading: Guide to the Royal Palace and Silver Pagoda, Phnom Penh
---
Over the past year, I haven't been a very good blogger. Blogging regularly should be easy for me. I have hundreds of random ideas, half-drafted stories, and almost-finished blog posts stored away on my computer. I should be sharing with you about my struggle to get to Neuschwanstein Castle, or how falling in love with the Loire Valley inspired me to learn French, or the time I went inside the magma chamber of an Icelandic volcano, but this irrational fear I have doesn't let me.
Continue reading: How to be a bad blogger
---
One of my favourite ways to relax is to spend two hours escaping in to the world of a movie. I want to be where the action takes place – see the river crossing, stand in the castle courtyard, breathe in the salty air of the beach. Here are ten films that have either inspired my travels or had me racing to my computer to watch the movie just for the chance to see how it showcased the location I'd just visited.
Continue reading: 10 Movies That Have Inspired My Travel
---
Today is Fathers' Day in Australia and New Zealand, the day where we take time to appreciate our relationship with our fathers and what they mean to us.
Continue reading: Happy Father's Day!