Ever since I heard that the movie Robin Hood: Prince of Thieves was partly filmed at Sycamore Gap, a section along Hadrian's Wall, I have wanted to visit it. When I was in the UK last year, I almost booked a day tour that went there, but chose one that went to Alnwick Castle instead. This year, we had a hire car from Europcar, and discovered that it's quite easy to get to Sycamore Gap – if you know where you're going.
Hadrian's Wall and Sycamore Gap in particular, appear in the movie Robin Hood: Prince of Thieves as Robin and Azeem (played by Kevin Costner and Morgan Freeman) make their way from the English coastline to Nottingham, where Robin first encounters the Sheriff's men as they trap Little John's son Wolf up the tree at Sycamore Gap.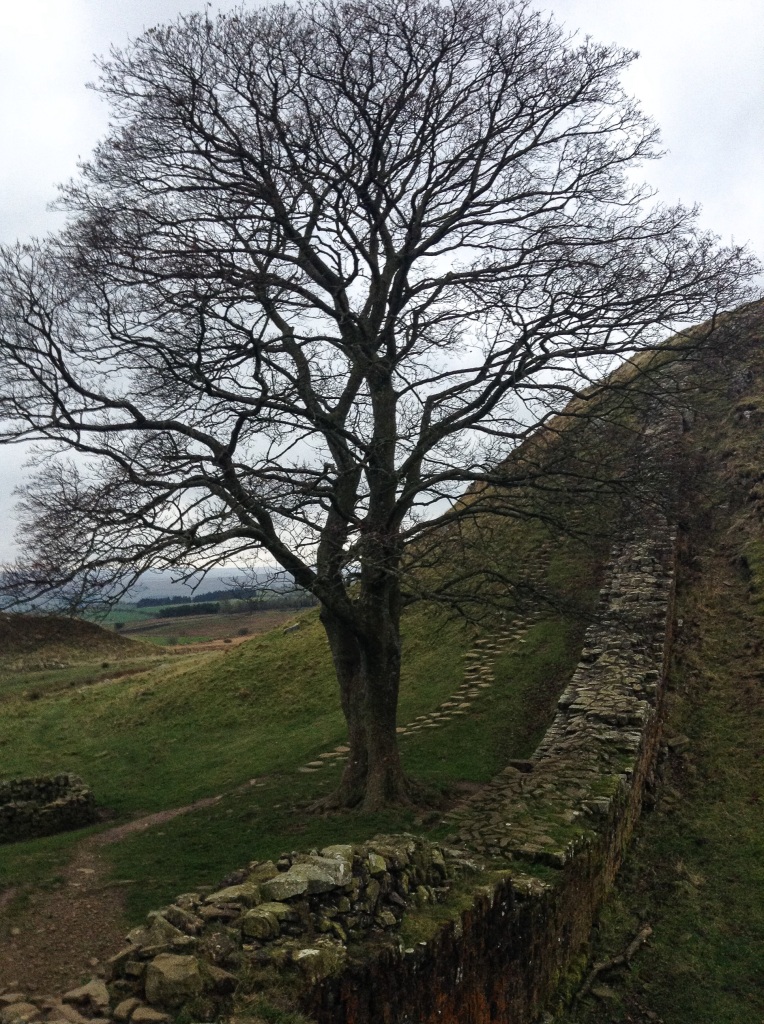 Unfortunately, there's not a great deal of information online, and doing a Google search combining 'Robin Hood' and 'Hadrian's Wall' returned plenty of photos but no directions.
Northumberland National Park does offer a brochure that includes it in one of their Hadrian's Wall walks, but doesn't tell you how to get there.
Driving to Steel Rigg Carpark
The easiest place to begin your walk to Sycamore Gap is by parking in the Steel Rigg carpark. (A four pound fee applies but the same all-day ticket can be used in six of the Hadrian's Wall carparks)
To get there, you need to get on the A69 that runs between Carlisle and Hexham.
Look out for signs for Haltwhistle and Once Brewed. If you follow those signs you should end up in front of the Once Brewed Visitor Information Centre at the stem of a T-Junction. Turn right and then immediately left and follow the road up to the Steel Rigg carpark. (Note: turning left from Once Brewed will take you past Twice Brewed)
How to get from Steel Rigg Carpark to Sycamore Gap
Once you are in Steel Rigg carpark, you will find a gate at the back of the carpark that will take you through to the walking trail. To your left, you will see a lake partially hidden by some hills – if you see this you are in the right place!
Follow the trail (note at some points the dirt and gravel trail disappears and turns to grass) over the first two hills. You should come across a ruin of a Roman fort known as Milecastle 39.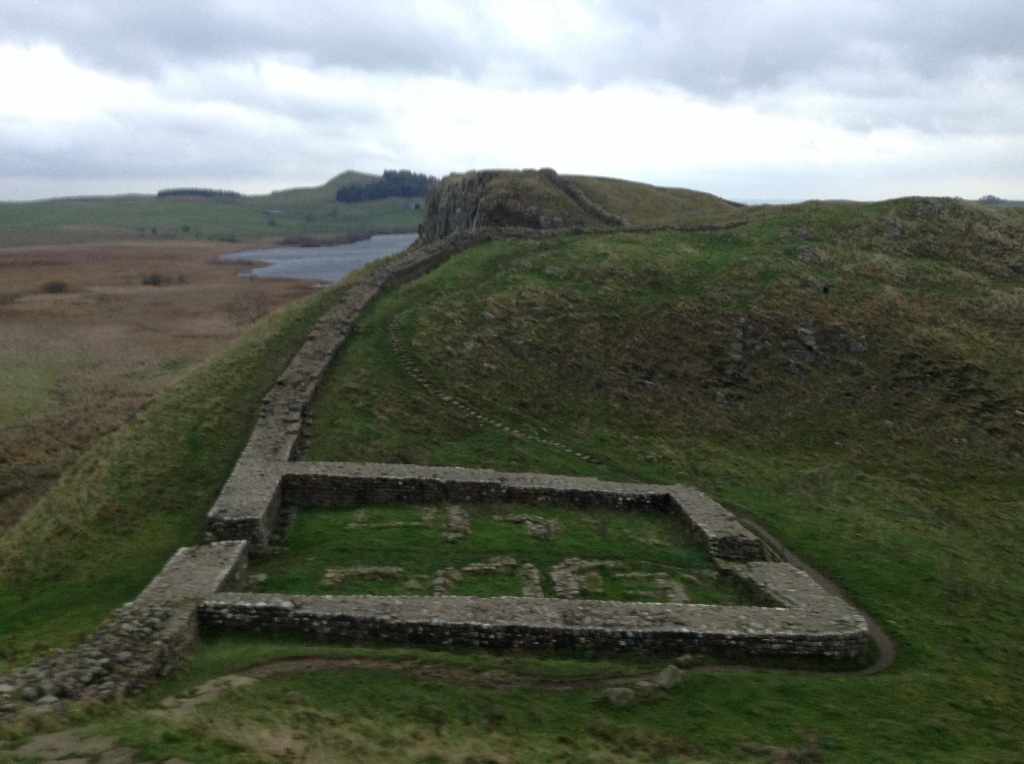 Sycamore Gap is just over the next hill (if you have gone past the lake you have gone too far). The walking trail winds right around the lone tree, so don't worry, you won't miss it!
It took about half an hour for us to walk from Steel Rigg Carpark to Sycamore Gap.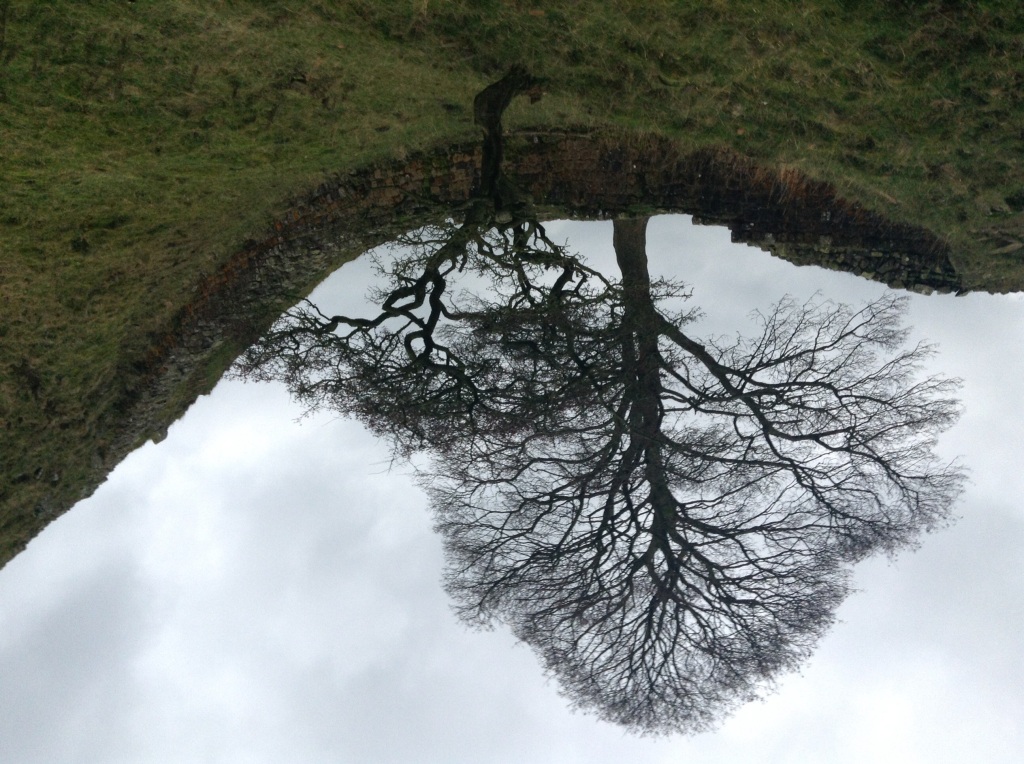 Whether or not you're a fan of the movie, Hadrian's Wall and the surrounding countryside is beautiful (even in low light with winds strong enough to stop you from climbing down a hill!). A UNESCO World Heritage Site, it is definitely worth the effort of all of those hill climbs!