My parents always took us on holidays in Australia as my brother and I were growing up. Our family caravan took us halfway around the country when I was seven, giving me vivid memories of climbing Ayer's Rock (Uluru), spying crocodiles floating like logs in Kakadu National Park, dangling my legs out of the window of the Puffing Billy in Victoria and being sorely disappointed by the Singing Ship in Rockhampton. I didn't think about the ability to travel overseas until I was much older, and I didn't need to – family holidays to beaches and lakesides were enough for me.
Both sides of my family came from Germany, one hundred and fifty years before I was born. At ten years old I read the textbook my mother had learned German from, excited to be able to speak another language.
Three years later, in my eighth grade German class, we were learning how to say someone was allowed to do something. Splashed across that double-page of my textbook was a cartoon drawing of the inside of Neuschwanstein castle, plus an information text about the mad king who ordered it to be built and then mysteriously drowned, having only spent a few days enjoying his fantasy castle.
It was several years afterward that someone mentioned it was the basis for Disney's Sleeping Beauty castle. Yes! I compared the photos with the opening credits of my childhood escape, adding another layer on to my need to see Neuschwanstein in person.
While on a school exchange trip it looked like my dream of visiting Neuschwanstein Castle would be realised. Only I was outvoted by my classmates: they opted to visit the closer palace of Herrenchiemsee, a replica Versailles. When my brother, armed with my camera, went on the same exchange trip two years later, he made it to Neuschwanstein, only to have the camera stop working as soon as he began walking up the hill from the carpark. It became a running joke in my family that I was never meant to see Neuschwanstein.
Eight years later, with university and work behind me, my best friend and I started to talk about "what-if we went on holiday to Europe". When her then-boyfriend had a bike polo event to go to in Berlin, it was the excuse I needed to make going to Neuschwanstein the highest priority on my list of things to see.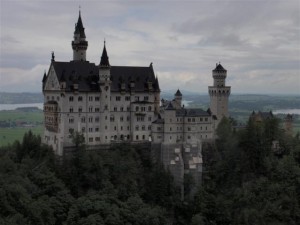 It was an indescribable feeling staring at Neuschwanstein from the Marienbruecke bridge. It was more than ticking something off of my bucket list. It was the feeling of having achieved something that I'd wanted for a long time.
I'd caught the bug. Now I have lists of places I've longed to see – and I know that I can see them if I want to.
What is your travel dream?